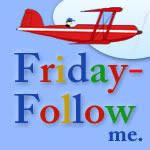 I have such fun on Fridays. I get to find new and interesting blogs that just make me laugh or I am in awe of those who can take awesome shots. My photo blog is at http://www.amadview.blogspot.com/ and if you get a chance to slide over there, enjoy. I'm not the best, but I do enjoy it.

There hasn't been much going on for me except for school. I am in school and having a bit of a problem getting my internship going. I'm running up against brick walls most of the time, but I'm not giving up. I am so positive it will work out, that I started the paperwork to continue on with my quest for a Bachelor's Degree. I am so excited about that. I have had more fun with this than I thought possible.

20 years ago I would never have guessed I would start my journey for a college degree at the ripe old age of 45. Now I'm 47, almost 48, and I am having a blast. It hasn't been easy through all of it, but the challenge is what I needed. I forgot how much I loved to learn. That feeling comes from many years ago when I was but a wee child. I recommend that everyone who thinks that maybe they want to go back to look into the online opportunities. It lends a certain amount of flexibility to your daily schedule while giving you a challenge you can meet and exceed.

Have a great day today. I think I will.